Server/Version Info
Zen Cart Server/Version Info Admin Page
This page allows you to view information about the server on which you are running Zen Cart.
The information at the top of the page gives you a quick snapshot of the most critical values:
(a) PHP Version: Version of PHP you are using
(b) Database Engine: Version of MySQL you are using
© PHP Memory Limit: The amount of memory a script is allowed to allocate
(d) Database: (Since Zen Cart 1.5.6) the name of the database from your admin/includes/configure.php file
Below this is the history of your database (e).
Below (a) is the output of phpinfo().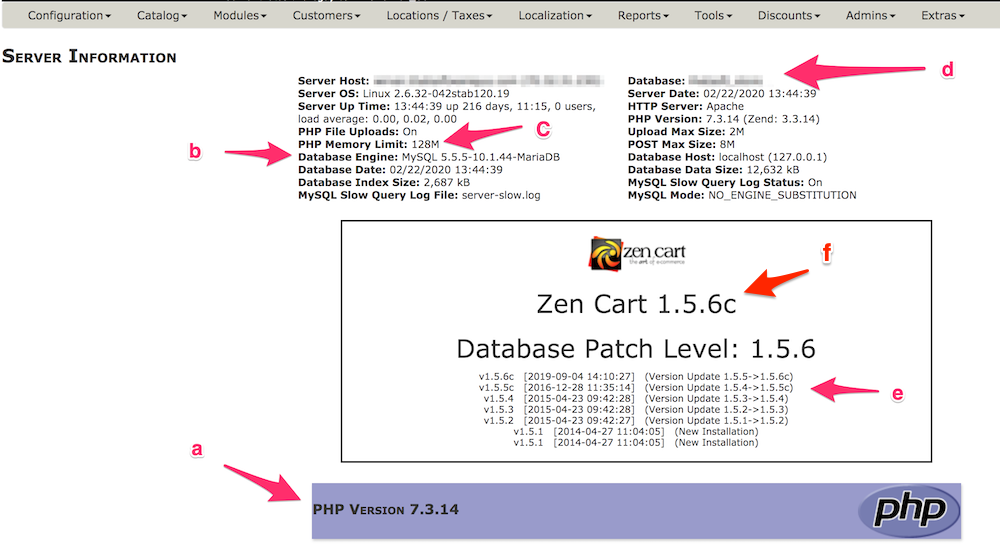 Be sure the version of PHP you are running is a supported version. Running an older unsupported version leaves you vulnerable to attack by bad guys. Stay up to date!
If your Database Engine value shows MariaDB, then, if needed, you can see the MySQL to MariaDB compatibility matrix here.
---
Last modified April 7, 2020 by Scott C Wilson
(d10b5fa)
.