What are the numbers beside the category links?
Enabling or disabling category counts
The numbers next to the category names on the categories sidebox are the category/inventory counts.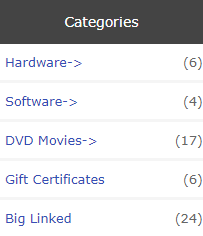 If you want to change whether these are shown or not, go to Admin > Configuration > My Store. Locate the Show Category Counts option, and turn them on or off.
---
Last modified September 13, 2020 by Scott C Wilson
(df12f19)
.