Attributes - an introduction
Introduction to Zen Cart Attributes
Zen Cart allows you to create variant products using its built-in attributes mechanism.
Example:
A shirt in sizes small, medium and large.
A book in hardcover or paperback
Zen Cart offers the following types of attributes:
radio buttons
checkboxes
drop-down lists
text boxes
file uploads
file downloads
read only attributes
Here's an example from the Zen Cart demo data.
This is a cropped view of the product info page for one of the same products. The product has a dropdown attribute called Media Type, and three checkbox attributes.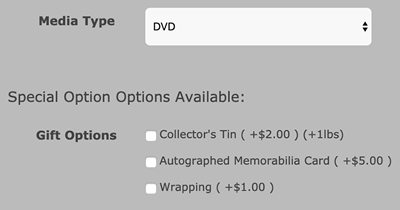 To learn more about attributes, read:
Downloadable products are also created using attributes. To learn more about downloadable products, read:
Creating a test store with the demo data allows you to see how various scenarios may be accomplished. See demo data for details.
---
Last modified October 22, 2021 by Scott C Wilson
(ac6d72fc)
.