Single-Valued Attributes
How are single-valued attributes different?
Generally attributes are provided to allow a customer to make a choice between several options. For example, in this image we see you must select a Media Type, and can optionally choose to add three possible Gift Options.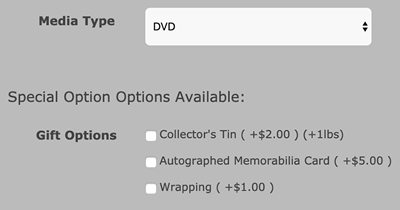 However, in some cases, product attributes for Zen Cart have only one value. These are called "single-valued" attributes.


Since Zen Cart 1.5.7, products like these can be added to the cart directly from a listing page without needing to go to the product info page.
---
Last modified September 7, 2020 by Scott C Wilson
(13c8ba8)
.